About This Project
'Sir Alec Clegg Revisited' was a one-year research project for the academic year 2016/2017 funded by a University of Cambridge Arts and Humanities Research Grant and based at the Faculty of Education.
The object of the project was to evaluate the significance for educational history and current practice of the career of Sir Alec Clegg (1909-1986). Regarded by many as the most significant educational administrator of the 20th century, his philosophy of practice was innovative, collaborative and admired by progressive educators, inspectors, architects and school planners in the UK, Europe, the USA, Australia and New Zealand. The project drew together expertise from across a range of disciplines including history, architecture, the cultural industries, education and policy to present their particular appreciation of the influence of Alec Clegg in these respective fields. The project was led by the Reader in History of Education and Childhood, Catherine Burke. Lottie Hoare worked as the Research Assistant while completing her own PhD.
A planned book, drawing on research from the project, is now forthcoming from Routledge, entitled: 'Education through the Arts for Wellbeing and Community: The Vision and Legacy of Alec Clegg' edited by Catherine Burke, Peter Cunningham and Lottie Hoare. These editors will contribute chapters alongside Ian Grosvenor, Ken Jones, Martin Lawn, Allie Mills and child and adolescent psychotherapist, Alison Roy, with a forward from Sir Tim Brighouse. All these contributors were involved with project seminars during 2017.
For images and details of our past seminars in Yorkshire, London and Cambridge, please see the Alec Clegg 1909-1986 tab above and for details on the final seminar of the Series, please go to the Plowden 50th Anniversary Tab.
Please also take a look at the new tab '2019 Related Events' which is currently being updated with information on Lottie Hoare's collaboration with the artist Ruth Ewan. Ruth is currently exhibiting an installation of a 1972 West Riding of Yorkshire classroom entitled 'Asking Out' at the Yorkshire Sculpture Park until November 2019.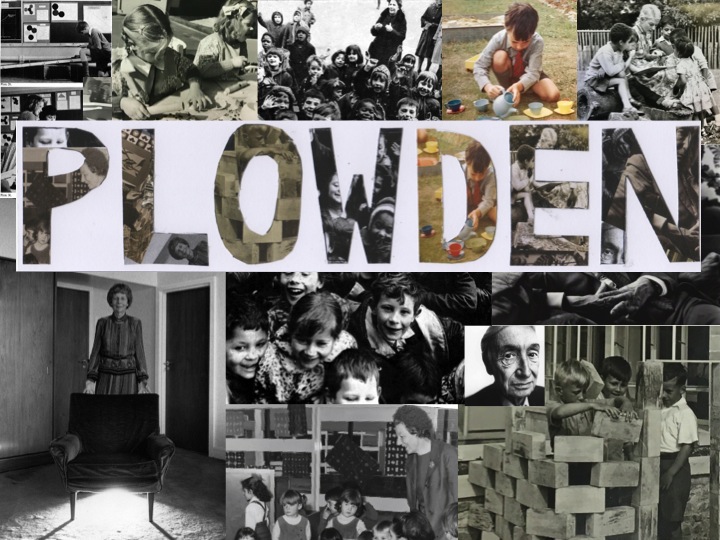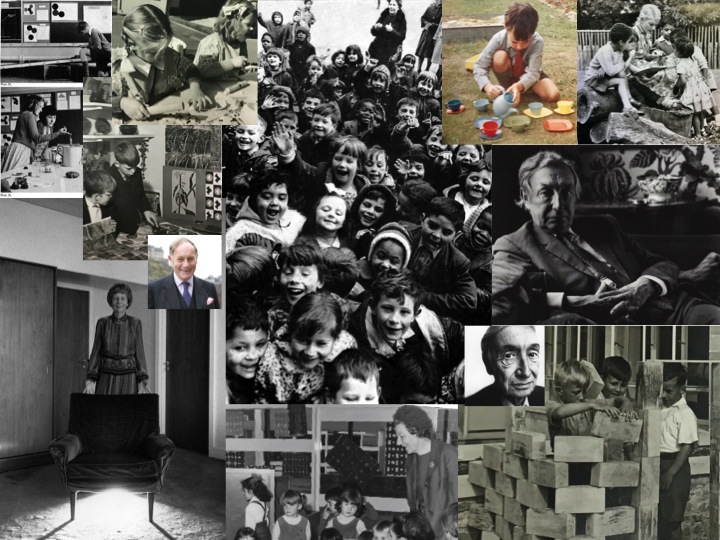 Images above in sequence: 1 & 2) Plowden: 50 Years On. panel presentation and one of 6 small group discussions at the 50th anniversary of the Plowden Report on Saturday 18th November 2017, Mander Hall, NUT headquarters, Mabledon Place, Kings Cross, London, 3) Plowden Collage and lettering by Lottie Hoare made to promote the Plowden: 50 Years On event. 4) Artwork produced during the 1970's by a child at Whitwood Mere Infants School, Castleford, West Riding of Yorkshire. Courtesy of National Arts Education Archive. 5) Photograph of pupils at Balby Street Primary School, Conisbrough, West Riding of Yorkshire, taken during the BBC/Open University filming of the 1970s television programme The Balby Street Kids. Photograph from the collection of Martin Lawn who was on set during the making of the programme 6) Ruth Nettleton, former pupil and teacher in the West Riding of Yorkshire between the 1930s and 1980s discussing her experiences with Lottie Hoare in Wakefield Library, June 2016. 7) Stain glass window from Wakefield County Hall. 8) Cover Illustration of the 1968 publication Children in Distress (Revisited as a topic for our seminar on 15 July 2017, Faculty of Education, University of Cambridge). 9) Photograph from Final ten years; 1964-74. 10) A school child's painting of a West Riding street scene, courtesy of NAEA. 11) Photograph by Lottie Hoare of the former gymnasium at Bretton Hall when it was used for teacher training. 12) A school child's painting of an area awaiting redevelopment in the West Riding of Yorkshire, courtesy of NAEA. 13) Collage of Plowden photographs by Lottie Hoare 14) Photograph by Steven Barclay of a selection of Alec Clegg's books, organised by Peter Cunningham at our 15 July Seminar. 15) Breakthrough reading books from the pop-up exhibition table at the Plowden: 50 Years on event at the NUT, 18 November 2017.